Author John Hess
     Before We can answer your question "What does the bible say about a disrespectful wife?" we might 
want to substitute for the word disrespectful, either spouse or person since we all are affected by a lack 
of respect. 
What does the Bible say about a Disrespectful Wife? 
     First, we need to understand what the bible says about the importance of respect. In the bible, there is 
no room for disrespect. In fact, the word disrespect is rarely mentioned in the Scriptures.  
 In chapter 1 of Esther for example,  
      It is written that since King Xerxes wanted to celebrate his accomplishments,  
he threw a banquet for all his nobles and officials, and for a full 180 days, he displayed the vast wealth  
of his kingdom and the splendor and glory of his majesty.  When these days were over, the king gave  
a banquet, lasting seven more days.  What does the Bible say about a Disrespectful Wife? 
    Meanwhile, Queen Vashti, his wife also gave a banquet for the women in the royal palace of the King.  
  On the seventh day, when King Xerxes was in high spirits from wine, he commanded the seven eunuchs 
who served him to bring before him Queen Vashti, wearing her royal crown, in order to display her 
beauty to the people and nobles, for she was lovely to look at. But when the attendants delivered the 
king's command, she refused to come. Then the king became furious and burned with anger. 
   According to law, what must be done to Queen Vashti?" he asked. "She has not obeyed the command 
of King Xerxes that the eunuchs have taken to her." 
    For the queen's conduct will become known to all the women, and so they will despise their husbands 
and say, 'King Xerxes commanded his wife to be brought before him, but she would not come.' This very 
day the Persian and Median women of the nobility who have heard about the queen's conduct will 
respond to all the king's nobles in the same way. There will be no end of disrespect and discord. He 
issued a decree: All the women will respect their husbands, from the least to the greatest." 
  Queen Vashti was never again to enter the presence of King Xerxes. Later the king makes Esther the queen.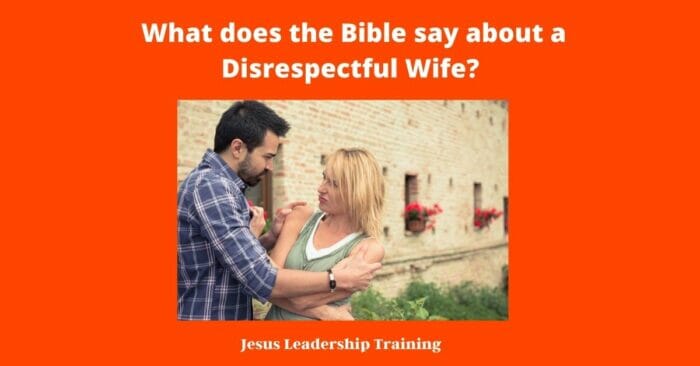 The Bible has a lot to say about Respect and Giving it to Everyone. 
  What does respect look like? 
   Words that describe giving respect:   someone who shows admiration, appreciation, esteem, 
favors, honors, regards, someone who shows consideration, and thoughtfulness, someone who is 
attentive, kind, concerned, someone who is courteous, gracious, polite, thoughtful, and loving 
  Words that describe disrespectful: someone who is stubborn, unyielding, obstinate, inflexible 
someone who is self-willed and all that is opposite of respectful 
19 Ideas Maybe this list will give you a better idea of someone being disrespectful 
Show Up Unannounced. 
 Apply Sexual Pressure 
Don't Make Time to Be with You 
Let Friends Rule Their Life 
Don't Share Household Chores 
Your Achievements Don't Matter 
 Never Make Apologies 
 Lie to You 
 Never Support You 10) Refuse To Spend Time With Your Family 
Don't Introduce You To Their Friends 
 Shares Your Shortcomings On Social Media 
  They Are Selfish 
   They Like to Criticize 
    Keep Trying to Change You 
    Always Acting Superior 
     Having Personal Habits That Are Inconsiderate 
     Does Not Respect Your Family Or Friends 
    Compare You With Other People 
     Never Keep Promises 
 Now, what does the Bible say about Disrespect? 
     In the Bible, disrespect is always a bad thing, and respect is universally a good thing. Respect 
is admiration for a person because of his or her position, abilities, qualities, or achievements. 
Respect is associated with esteem, regard, high opinion, admiration, reverence, and honor. In 
the Bible, respect is more specifically the act of acknowledging another person's worth, 
especially because of position, honor, or age. Disrespect is the opposite of respect: it is failing to 
acknowledge another's worth, withholding the honor that should be given, or actively 
demeaning someone.​
​
Respect should be Given to those who are Owed Respect. 
Romans 13:7   Give to everyone what you owe them: If you owe taxes, pay taxes; if revenue, 
then revenue; if respect, then respect; if honor, then honor. 
The Bible mentions many categories of people to whom respect should be given: elders, authority figures, Jesus 
Christ, and mankind in general. First, elders are owed respect because of their age and experience. 
Leviticus 19:32 "Stand up in the presence of the aged, show respect for the elderly and revere 
your God. I am the LORD. and nations or people who disrespect their elders are called "hard-faced". 
1 Timothy 5:1 Paul exhorts Timothy not to rebuke older men, in the same way, he would rebuke young men, 
but to be gentle and encouraging and respectful, as to a father  Since the experience that comes with old age 
is a key element in wisdom, to respect one's elders is to respect the wisdom they can give.​
________________________________________________________________________________________________________________​
Authority Figures are another Group in the Bible that are owed 
respect, including Political Leaders. 
1 Peter 2:17 Show proper respect to everyone, love the family of believers, fear God, honor the 
emperor. 
Church overseers  
1 Timothy 3:2 Now the overseer is to be above reproach, faithful to his wife, temperate, self-
controlled, respectable, hospitable, and able to teach. 
Spiritual leaders
 1 Thessalonians 5:12-14   Now we ask you, brothers and sisters, to 
acknowledge those who work hard among you, who care for you in the Lord, and who admonish 
you. 13 Hold them in the highest regard in love because of their work. Live in peace with each 
other.  
Good Fathers who Discipline their Children  
Hebrews 12:9 Moreover, we have all had human fathers who disciplined us and we respected 
them for it.  
Parents in general  
Exodus 20:12
 Honor your father and your mother, so that you may live long in the land the 
LORD your God is giving you. 
Husbands  
Ephesians 5:33 However, each one of you also must love his wife as he loves himself, and the 
the wife must respect her husband. 
______________________________________________________________________________ 
Jesus Christ deserves the honor and respect of man,
 but He was given much disrespect when 
He came to save. 
John 4:44
Jesus told 
a parable
 once about a landowner (God) who sent his beloved son (Jesus) to a group 
of tenant vinedressers to check on the state of his vineyards. The landowner believed that his 
tenants would respect his son, but they did not. Instead, they showed him the ultimate 
disrespect, throwing him out of his own family's vineyard and putting him to death (
Matthew 
21:33–40
). The warning at the end of this parable is sobering: what do you think the owner of 
the vineyard will do to those servants, in payment for their violence and disrespect, when he 
arrives?​
             Finally, respect is something that is owed to humanity in general, from one person 
to another, simply on the basis of our humanity. We each bear the image of God (
Genesis 
1:27
). Another parable is told about a wicked judge who did not fear God or respect man (
Luke 
18:2
). The judge's disrespect for people is a feature of his wickedness in the story. Christians are 
not only to honor their fellow believers (
Romans 12:10
), but to respect those who do not 
believe. As we witness to the truth, and the hope that we have in Christ, we should do it with 
gentleness and not show disrespect (
1 Peter 3:15
). 
​
    Signs your Spouse is Disrespecting you 
1)They are rude towards you.
2)Whatever you do, it's not enough.  
3)They never listen to you 
4) They neglect their household responsibilities. 
5) They make no time for you 
6) They do not acknowledge what you bring to the marriage. 
7)They belittle you. 
8)They're difficult. 
9)They treat you as if it doesn't matter if you stay or go.
10) They are stubborn 
11) They exhibit disrespectful behavior on social media. 
12) They flirt with the other sex in front of you. 
13) They degrade your friends and family. 
14) They give you a cold shoulder. 
15) They don't know the meaning of compromise. 
16) They are emotionally manipulative. 
17) They point to other marriages as better than yours. 
18) You haven't had any sexual intimacy in ages. 
19) When you do talk, all they do is complain. 
20) They undermine you. 
What are 7 ways Spouses can Show Respect for their Mates? 
First, always speak kindly to them. This includes using words of affirmation and avoiding 
sarcasm or put-downs. 
2. Second, take an interest in their hobbies and conversations. Show that you value their 
thoughts and opinions. 
3. Third, be physically affectionate with them. Touch them often and let them know that you 
find them attractive. 
4. Fourth, support their decisions–even if you don't agree with them. This shows that you 
trust their judgment and respect them. 
5. Fifth, pray for them regularly. Ask God to bless them and give them strength in all areas of 
their life. 
6. Sixth, give them regular words of encouragement. Let them know that you are proud of 
them and that you believe in them. 
7. Finally, show your appreciation for all that they do–big or small. A simple "thank you" can 
go a long way in making them feel loved and appreciated. 
When it comes to showing respect for your spouse, little things can make a big difference. By 
taking the time to do these things, you can let them know just how much you love and 
appreciate them. 
Respect is an important part of any healthy relationship–including marriage. If you want your 
marriage to thrive, make sure you are showing your mate the respect they deserve. Pray 
together often. 
 7 Ways to Earn More Respect 
Be kind. Always be polite to everyone you meet during the day, from your spouse 
and children to your co-workers, to your neighbor next door. 
2. Act respectfully. Don't interrupt others in a conversation. 
3. Listen well. Listening is an active process; pay attention to others. 
4. Be useful. People earn respect by always being ready to lend a hand.  
5. Don't make excuses. Your actions are based on your choices, there is no reason for 
excuses. Be ready to say, I'm sorry, and maybe give an explanation. 
6. Don't be easily angered. 
7. Be willing to change. Being stubborn won't get you anywhere.    
  Our relationships with other people must always be full of respect. In any environment, any 
circumstances, respect should be one of the supports in our relationships with mankind.  
 Whether in family relationships, a working relationship, a social get together, on public 
transportation or walking the streets, even in a restaurant when served by a waiter, there needs 
to be respected. 
  I believe our family upbringing can very positively teach us and others to act with respect. I 
also think that the family environment can teach us to disrespect others. Those who are created 
in a situation where they see the father respecting the mother, the mother respecting the father, a 
situation where children learn from their parents to respect their siblings and learn to take care of 
words and expressions that are offensive. I think that this kind of environment puts very positive 
marks on the character of a person, marks that will follow them for the rest of their lives. And of 
course, they will repeat this with their wife, or their husband, and they will repeat this with their 
children, friends, and others.  
What about us who are Christians? Respect should be a mark on the character of one who has 
been born again. We are not hostages of our creation, we have chosen to follow the footsteps 
of Jesus. And not only His statements but mostly His example show His respectful relationship 
with those around him. I believe that respect begins in the heart. Those who have this mark on 
their heart will be able to be firm and respectful. This capacity comes from the Spirit of God. 
From the Spirit of God, we receive the fruit of the Spirit which is mentioned in (Gal 5:22,23) 
which is enough for respectful behavior. We would not need to say that love and respect go 
side by side. Paul says that love is  
1 Corinthians 13   4 Love is patient, love is kind. It does not envy, it does not boast, it is not proud. 5 It 
does not dishonor others, it is not self-seeking, it is not easily angered, it keeps no record of 
wrongs. 6 Love does not delight in evil but rejoices with the truth. 7 It always protects, always 
trusts, always hope, and always perseveres. 8 Love never fails. 
  In other words, I could say that respect is a manifestation of love. 
Getting back to your question 
 If you want her respect, do not disrespect her feelings., 
Respect is sweeter when you earn it; you lose respect when you demand respect.  
The best way to be respected is to be respectful. 
It takes no kindness to respect a person who deserves respect – it's the only payment 
that they have earned. To give unearned respect is the supreme gesture of 
charity. 
 We Need to try to be Worthy of the respect of Others. 
In Paul's letters to Timothy and Titus, he uses this phrase often. 
Titus 2:2  
2 Teach the older men to be temperate, worthy of respect, self-controlled, and sound in 
faith, in love, and in endurance. 
2) 1 Timothy 3:4 He must manage his own family well and see that his children obey him, 
and he must do so in a manner worthy of full respect. 
3) 1 Timothy 3:8 In the same way, deacons are to be worthy of respect, sincere, not 
indulging in much wine, and not pursuing dishonest gain. 
He also wrote this: 
4) 1 Timothy 3:11 In the same way, the women are to be worthy of respect, not malicious 
talkers but temperate and trustworthy in everything.                                    
   So we all need to treat each other with respect as we try to be worthy of it. 
Christians are to be a people of order and discipline, of righteousness and justice. We are 
to be good examples of love and peace so that others may be won to Christ and be saved for 
eternity 
Matthew 5:14–16
. Part of living as examples of Christ before the watching world is 
showing respect to others. 
5) 1 Thessalonians 4     Live in order to please God so that your daily life will win the 
respect of non-believers. 
6) Romans 12:10 
 Be devoted to one another in love. Honor one another above yourselves. 
In one of Paul's closing chapters, he gives instructions for Christian Households 
7) Ephesians 5:21           Submit to one another out of reverence for Christ. 
8) Hebrews 5:7 During the days of Jesus' life on earth, he offered up prayers and 
petitions with fervent cries and tears to the one who could save him from death, 
and he was heard because of his reverent submission. 
9) Proverbs 3:5-7                     Good advice from Proverbs 
Trust in the LORD with all your heart ​
    and lean not on your own understanding;6 in all your ways submit to him,​
    and he will make your paths straight. 
10) The Bible also says Matthew 7:12 "Treat others the way you want to be treated." 
Closing prayer 
O LORD, you have searched me and known me! You know when I sit down and when I rise up; 

you discern my thoughts from afar […] Search me, O God, and know my heart! Try me and 

know my thoughts! And see if there be any grievous way in me, and lead me in the way 

everlasting!     
Article Written By John Hess – God Bless