Praying During Menstruation Christianity
One topic that we don't hear much about is menstruation, yet we wonder whether it stops women from praying, reading the Bible, and fasting. Many people don't know what the Bible says about fasting during menstruation. Fasting is an important part of a Christian's spiritual discipline, and if you are interested in living your life according to biblical guidelines, it's important that you understand this aspect of fasting. Praying During Menstruation Christianity
This article will cover how to fast on your period, what the Bible has to say about it, and whether or not it is a sin.
See Amazons Educational Resources for Bible Fasting
What Does the Bible Say about a Woman's Period?
To know whether a woman can fast during menstruation, we have to go back to the Word of God. The Bible has some verses on menstruation, and below are 3 main ones.
1.     Leviticus 15:19 – 'If a woman has a discharge, and the discharge from her body is blood, she shall be set apart seven days; and whoever touches her shall be unclean until evening. ( menstrual impurity )
In the Old Testament, a woman was considered unclean when she was menstruating. She was to seclude herself for 7 days, and if anyone touched her, they would be unclean. Everything she touched would also be unclean.
2.     Leviticus 18:19 – Do not approach a woman to have sexual relations during the uncleanness of her monthly period.
A man was not to have sexual relations with a woman because she was unclean and would make him unclean.
3.     Matthew 9:20-21 –  And suddenly, a woman who had a flow of blood for twelve years came from behind and touched the hem of His garment. For she said to herself, "If only I may touch His garment, I shall be made well."
A woman who had an unnatural flow of blood for twelve years touched Jesus, and she was healed. This was interesting because anyone who touched a woman menstruating became unclean, yet this didn't happen to Jesus.
We can draw some conclusions from the above Scriptures. In the Old Testament, a woman was unclean during her period, but in the New Testament, such a woman is clean and righteous before God. In Jesus Christ, we are under a New Covenant, and we are cleansed by His blood, and our righteousness comes from Him.
In our new faith in Christ, what matters is the purity of our spiritual state, and this does not depend on our physical bodies. According to John 4:24, God wants us to worship Him in Spirit and truth. This means that a woman can pray, fast, read the Bible or go to church because we connect to God in our spirits.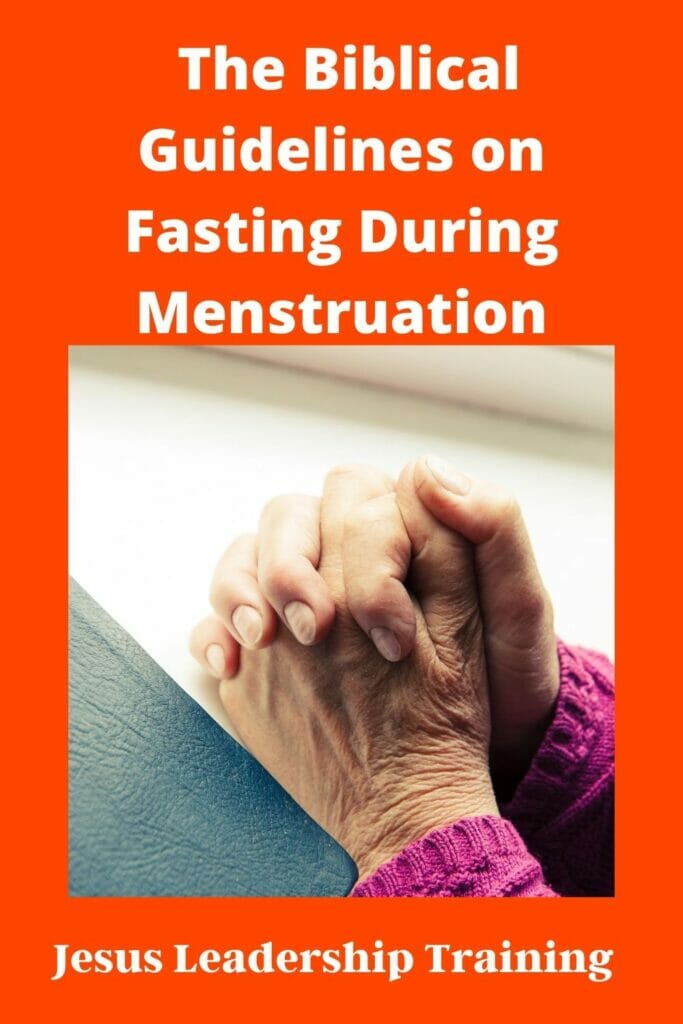 Can a Woman Fast During Her Period? (Menstruating)
It is clear from the Bible that fasting during menstruation does not make you impure or unholy. So, can women fast during their period?
Yes!
There are some verses on fasting in both the Old and New Testaments of the Bible.
1.      Isaiah 58:3-10 – Let no one deceive you with empty words, for because of these things the wrath of God comes upon those who are disobedient. So do not be partakers with them.
For you were called to freedom, brethren; only do not turn your freedom into an opportunity for the flesh, but through love serve one another. For the whole Law is fulfilled in one word: "You shall love your neighbor as yourself." But if you bite and devour one another, beware lest you be consumed by one another!
2.      Matthew 6:16-18 – "Whenever you fast, do not put on a gloomy face as the hypocrites do, for they neglect their appearance so that they will be noticed fasting. Truly I say to you, they have their reward in full.
But you, when you fast, anoint your head and wash your face so that your fasting will not be noticed by men, but by your Father who is in secret; and your Father who sees what is done in secret will reward you.
3.      Acts 14:23 – And when they had appointed local elders for them in each church, with prayer and fasting, they commended them to the Lord in whom they had believed.
When the new churches were established, it was not unusual to fast and pray before appointing leaders to serve in those churches. That is because fasting and praying to help us focus on God and be humble. We serve a loving, merciful God who is patient with us, so we should imitate Him by fasting to seek Him in prayer.
4.    Matthew 17:21-22 – Then Jesus reiterated, "For assuredly, I say to you, if you have faith as a mustard seed, you will say to this mountain, 'Move from here to there,' and it will move, and nothing will be impossible for you.
What Does the Bible Say About Fasting on your Period?
There are no Bible verses that talk about fasting during a woman's period. If Jesus did not condemn the woman with the flow of blood, He does not condemn women who are on their periods today. They can approach Him anytime in prayer and fasting.
When a woman prays and fasts, she connects to God in her spirit, not her body. Her concern should be to purify her spirit as she approaches God. Jesus has cleansed us and made us righteous, and this allows us to get into the presence of God anytime, even that time of the month.
In the Old Covenant, there were many dos and don'ts that do not apply to us today because of our relationship with Jesus. We don't offer animal sacrifices because the blood of Jesus made atonement for our sins. We are not unclean because of the things that made the Israelites unclean during Moses' time. Those who say that a woman is unclean during her period are judging her by the Old Covenant, yet we are under a New Covenant in Christ.
Peter once had a vision of different kinds of animals and birds that Jews considered unclean. A voice told him to kill and eat, and he said he couldn't because they were unclean. It was the voice of God, who then told Peter that he should not call unclean what God has made clean (Acts 10:15). In the same way, when God cleanses women through salvation in Jesus Christ, we shouldn't consider them unclean because they are having their monthly period.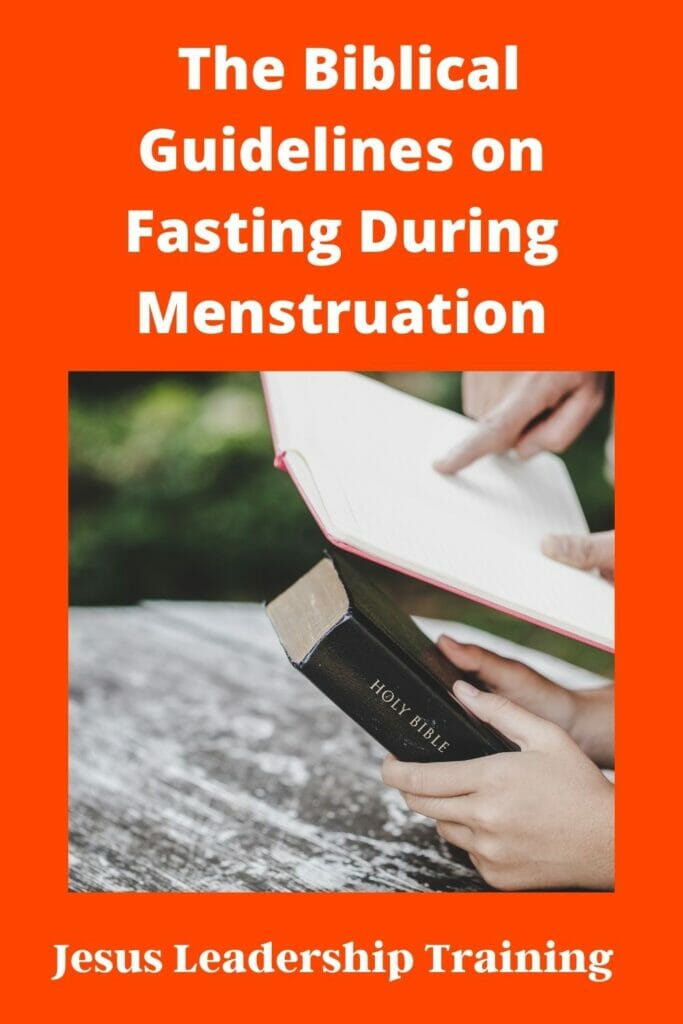 Is it a Sin to Fast on your Period? (Impurity)
The woman with the issue of blood was healed when she touched Jesus' garment. Jesus also did not become unclean when she touched Him because He had the power to heal, and He came to establish a new covenant. What we see in this story is that the woman with the issue of blood could approach Jesus freely, and women having their period today can do the same. It is therefore not a sin to fast during your period. God will hear your prayers even when you are on your period. Sin is what separates us from God, not bodily functions like menstruation.
What God considers sin is when we disobey Him, and not anything we have no control over like menstruation. Jesus set us free from practices that are meant to cleanse the body and not the spirit. He came to cleanse our consciences and make us righteous. Our bodies are temples of the Holy Spirit (1 Corinthians 6:19), and we are to offer them to God as a living sacrifice, holy and pleasing to God (Romans 12:1). This is our true and proper worship of God.
General Safe Health Concerns for Anyone Fasting
Check with your doctor before
Fasting if you have a medical condition, or take medications. A shorter fast may not be a problem for most people but consult your doctor first to make sure it is safe for you. If you feel dizzy or light-headed during your fast, drink more water and juice instead of solid food. If you are very hungry or feel nauseated, drink more juice or water every hour to keep your energy level up. If you are determined to continue fasting, remember that God will provide for all your needs according to His riches in glory by Christ Jesus (Philippians 4:19).
For shorter fasts less than a day, you can break your fast with something mild like fruit or juice. But if you are fasting longer than 12 hours, break the fast with solid food, and then resume the fast after that for another 24 hours at least. You should drink plenty of water or juice during this time. If you observe a fast that's longer than 2 or 3 days, it would be wise to check with your doctor first.
Periods are often considered an obstacle in fasting because the woman may feel weak and have light-headedness due to low blood sugar. However, if you drink enough water and juice, these symptoms should not be a problem. In fact, women can experience increased energy levels during their period because they are less likely to become pregnant at this time.
Fasting on your period also removes the distraction of hunger and food cravings that can take your focus away from God. When you fast, the Holy Spirit helps you to pray and concentrate on what is important (Luke 2:37).
Other Notes
Do not judge women by the Old Covenant – The New Covenant has been ratified in Christ. You are now living under a new standard. (Colossians 2:13-14)
The woman with the issue of blood ( menstrual cycle ) did not make Jesus unclean – Jesus did not see her as an organic pollutant because she had no choice. We have been freed from rituals that may have been helpful in the past, but which do not apply to us today. (Matthew 15:1-20)
Women can approach Jesus freely – He came to establish a new covenant between man and God, so there are no prohibitions on who can reach out to Him. (Mark 5:25-34) (Luke 8:40-48)
God does not care about bodily functions like menstruation. – If we sin, He is concerned about it and will forgive us. (Romans 4:7-8) Fasting may help to eliminate distractions that prevent us from focusing on God and hearing His voice (Matthew 17:1-13; Mark 9:2-10).
Fasting is not a punishment – It's an opportunity to grow closer to Jesus. (Acts 13:2,3,31; 14: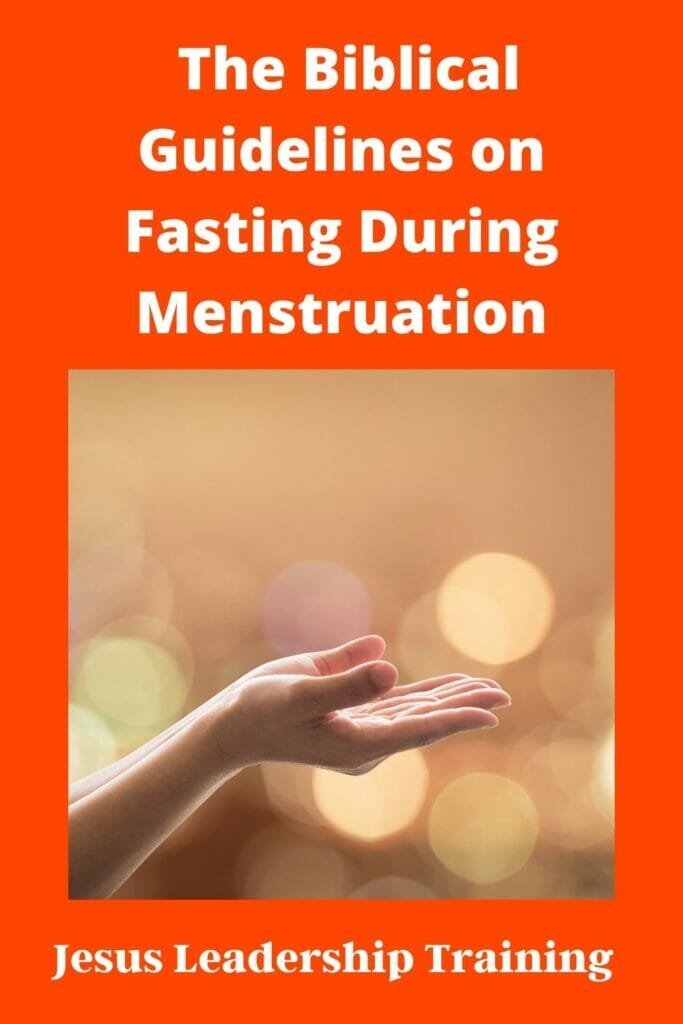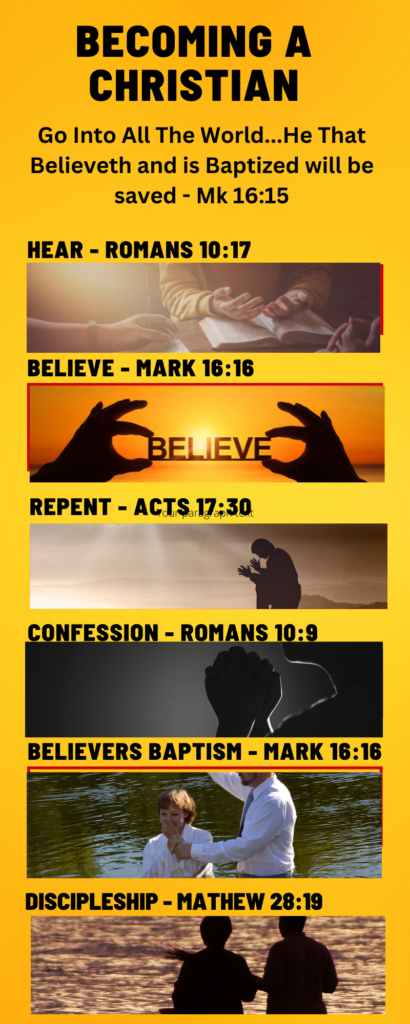 Final Thoughts
Whatever we experience in our bodies like menstruation ( menstrual cycle ) or disease does not stop us from being in the presence of God. That is why lepers could approach Jesus for healing when others thought they were unclean and should be far from everyone. That is why God made Peter understand that Gentiles were not unclean because God had cleansed them by the blood of Jesus. If these things don't stop us from approaching God in prayer, they also cannot stop us from fasting. If a woman feels she does not want to fast during her period, then it is her personal choice. It is usually an uncomfortable time for women, and many are not able to work or do much.